Everyone should have access to good quality, affordable healthcare.
This unwavering belief has been driving global development consultancy Options for more than two decades. But their brand wasn't telling the true story of the scale and scope of their work – or the transformational impact they have had on women and children's health around the world.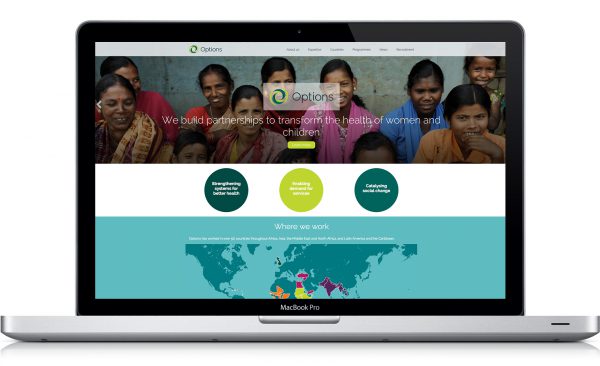 THE CHALLENGE
Options has over 20 years' experience delivering complex health and social programmes in developing countries across the globe, ranging from sanitation in Sierra Leone to family planning in Yemen.
What they do and how they do it is sophisticated and requires a range of technical expertise. So, before tackling their visual identity and redesigning their website, we worked together to create a more powerful brand, and confidently assert their position in their field.
OUR APPROACH
Given the complexity of what Options do, it helped to develop three key headings for their work – strengthening systems for better health; enabling demand for services; and catalysing social change.
That helped establish a platform for a distinctive tone of voice – more accessible, more human – designed to enable clients and partners to get closer to what matters about Options.
During development of the refined visual brand, we dedicated a series of team exercises to understanding the user experience and content proposition of the new site. Drawing on the collective knowledge gathered here we designed an information architecture that helps bring the new brand to life.
MORE IMPACT
International development should be all about real impact for people. The new site enables Options to highlight more of the headline facts and stats that quickly put their work into context.
That emphasis on impact has influenced the choice of images, which now showcase more of the people and places that are benefiting from the results of Options' work.
Early feedback on the brand has been hugely positive. The Options team are brimming with confidence – developing new relationships and remaining true to their collaborative spirit.
"What came out of Neo's strategic review was taken up really quickly. We were delighted with the whole process. The new website goes above and beyond our expectations."

– Jackie Lane, assistant director for new business and partnerships, Options
Visit options.co.uk